April 4, 2020
Posted by:

icoblock

Category:

Uncategorized
The most popular U.S.-based cryptocurrency exchange, Coinbase, saw an increase of deposits and buy orders during the panic sell in mid-March. While customers were purchasing various digital assets, Bitcoin was the clear leader with the most buyers during the drop.
Coinbase Reviews The March Panic Sell
12-13th of March marked one of the most violent price plunges in cryptocurrency history. Bitcoin, and most alternative coins, decreased with as much as 50% at one point. This came after the WHO proclaimed the COVID-19 as a pandemic, President Trump halted flights from Europe, and numerous countries initiated radical measures, including full lockdowns.
The cryptocurrency market was not the only one suffering. Equities, oil, and even gold plummeted, as investors were panic selling all of their liquid assets to receive cash.
Coinbase recently issued a report on what transpired during those hours. It reviewed the performance from most markets and outlined that large leverage trading positions could be related to the massive plunge amongst cryptocurrencies:
"Traditional equities markets limit the amount of leverage to ~2-3x. In contrast, Bitcoin has some offshore exchanges that offer 100x+ leverage, where $1 of Bitcoin could be used as collateral to back $100 in purchasing power. To be fair, this is very risky – a position leveraged to 100x would force-closed if the market moved just ~1% against you. So most traders hold positions at a more sensible 5-30x leverage, but still notably higher than 2-3x."
The report informed that hours before the crash, the aggregate size of all leveraged contracts on exchanges hovered around $4 billion.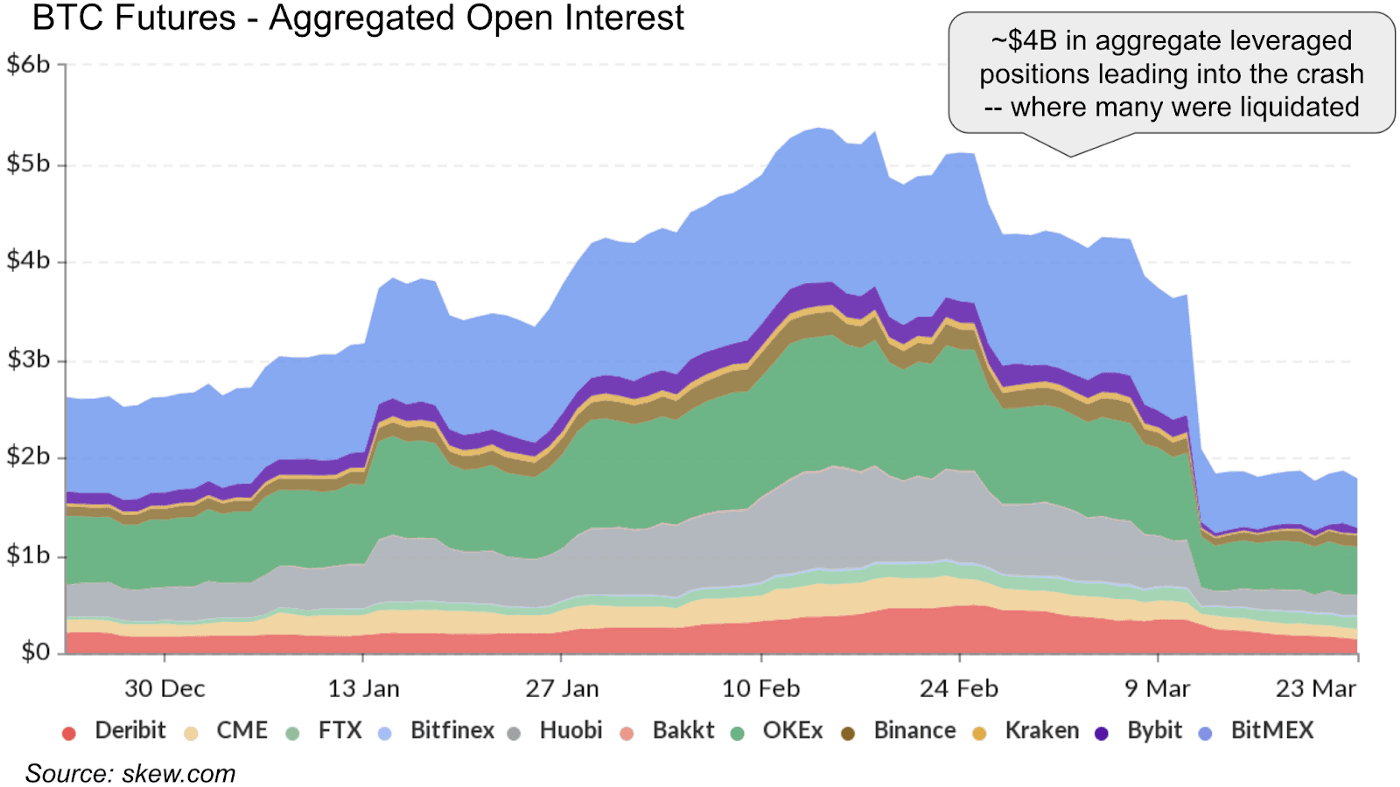 Investors Buying The Dip
According to the document, customers buying digital assets on Coinbase are generally 60% more than those who sell. During the crash, however, the number jumped to 67%.
In fact, the popular exchange saw a 5x increase in cash and cryptocurrency deposits, a 2x rise in new-user signups, 3x in trading users, and even more impressively – 6x surge in total traded volume.
The most bought asset, somewhat expectedly, was the primary cryptocurrency – Bitcoin. Over half of all deposits and trades involved BTC. Naturally, the second and third-largest coins by market cap, Ethereum (ETH), and Ripple (XRP) were next.
From the lower-seeded altcoins, customers were depositing and buying significant quantities of Tezos, Chainlink, Litecoin, and Bitcoin Cash.
Binance Futures Limited Offer: Use this link to register & get 10% discount on fees (Exclusive to CryptoPotato).
Click here to start trading on BitMEX and receive 10% discount on fees for 6 months.